STEVEN FOGELL
Visual & Theatre Artist
Seattle, Washington
"HIPPOLYTA"
A visual and theatre artist, my art style is usually based on something animal-related; I am obsessed with their beauty. I am also inspired by light, the power of shadows, twilight, and things that glow – they can turn something ordinary into something truly magical.
The theme for my pony came to me while in Ashland for the Shakespearean Festival just before the lockdown: It had to be Shakespeare-based! I have directed, designed, and performed in dozens of such productions, and nothing inspires magic more than "A Midsummer Night's Dream." I guess you could say this project inspired me to create more animal theatrical magic.
Created from 1930s vintage William Morris wallpaper, and a fireplace screen from the same era, Hippolyta's looks change from day to night. In the garden at twilight, the reflective light is stunning on
her gold leaf. She truly lives up to her name as a queen!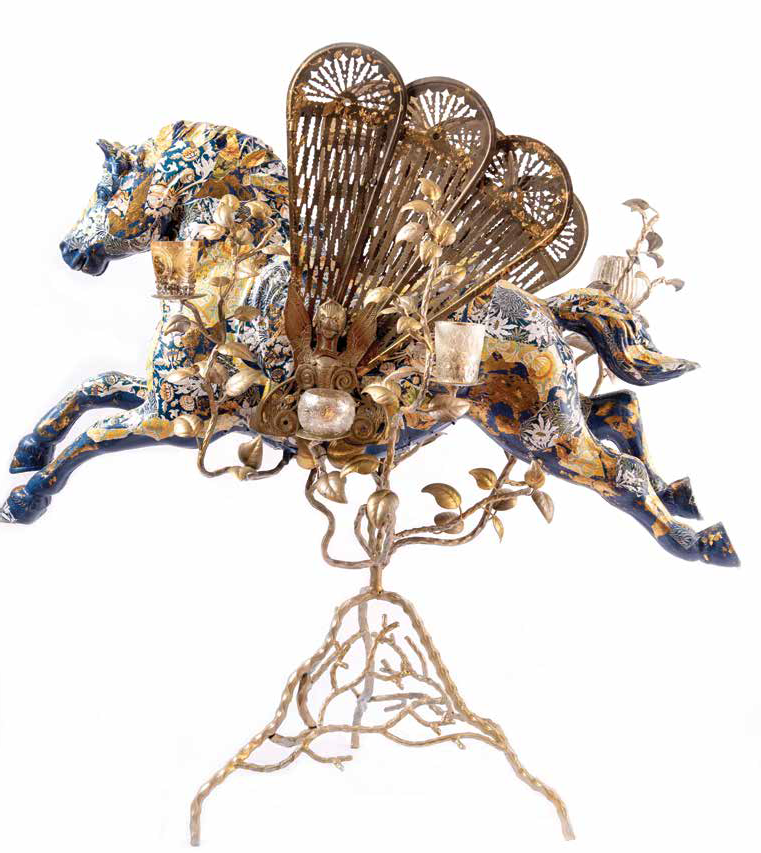 "But all the story of the night told over, and all their minds transfigured together… It must be YOUR imagination then, and not theirs."
~ Hippolyta speaks, Act V Scene 1,
"A Midsummer Night's Dream"
– Wm. Shakespeare